Check out these wonderful places I've been to in Vietnam! A month full of crazy scooter adventures, amazing people and absolutely awesome food.
---
HO CHI MINH CITY
1976 "Saigon" was renamed "Ho Chi Minh City" (after Ho Chi Minh, the first leader of North Vietnam). It is the largest city of Vietnam.
Highlights
War remnants museum
Reunification palace
Waterpuppet Show (you don't understand a thing what's going on, but its hilarious to watch)
Chu Chi tunnels (a bit out of the city -> book a bus tour, taxi is quite expensive)
Skygon Hostel + Restaurant and Streetfood-Alley there
Hostel-Tipp
Skygon Hostel! (not located in the city center, but one of the most amazing hostels I've ever been to)
incredible view over the city !
free breakfast and water refill
a lot of great restaurants nearby
taxis are passing by so it's easy to get around, if you are not keen to walk
(a little bit hard to find as it is an apartment in the 12th floor of a skyscraper)
Link to Skygon Hostel on Hostelworld
---
MEKONG DELTA
a must see at the Mekong Delta is definitely the floating market
Highlights
floating market
heritage tree
---
MUI NE
Highlights
Enjoy the beach
having a massive seafood dinner
watch the muscle fishing locals in the morning
---
DALAT
Highlights
Crazy House
100 Roof café (a crazy maze bar)
Love Valley
Golden Buddha
Nightmarket
---
NHA TRANG
Highlights
---
HOI AN
Such a romantic town! The Old Town of Hoi An is an UNESCO World Heritage Site.
Highlights
My Son temple Ruins (about 35km out of Hoi An, it's worth it so just take a scooter)
walk through the town, the markets and the river front
enjoy the atmosphere and the art between the little alleys with its wonderful architecture
Bars (Live-Music if you are lucky!) and restaurants
Japanese Bridge (small but cute looking from outside)
Homestay Recommendation
owned by a very lovely family
not directly in town, but you can hire bicycles from the homestay to get around
The owner organised our Hai Van Pass trip for us – so she organized guys who brought us motorbikes and they took our backpacks to Hue for us. SO EASY!
---
HAI VAN PASS – from Hoi An to Hue
hire a scooter and ride the Hai Van pass from Hue to Hoi An – and try not to get a flat tire on the mountain 😉
---
HUE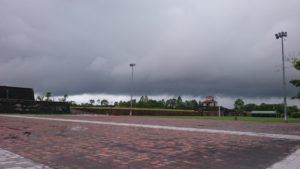 for us not the best place in Vietnam – got stuck there for a few days! We could't head further north because of floods and had to skip on 'Phong Nha Ke Bang National Park' afterwards as it was still not accessible.
---
NINH BINH
Things to do
Birds Valley
Pagodas
Tam Coc
---
HANOI
Things to do
military history Museum
old town
Hoàn Kiếm Lake
---
HALONG BAY
Things to do
book a tour and see fishing villages, sleep on one of the islands
---
HA GIANG – Motorbike Loop
Hostel Recommendation
---
TA VAN – Ricefields, Hiking and Hammocks
It's located close to Sapa, in the north of Vietnam. Ta Van is a very sleepy village surrounded by many rice terraces and was just perfect for the my last in this beautiful country! I appreciated time for myself and laying in the hammock thinking about what I experienced so far and writing some post cards to my family and friends. Beside that the region is home to a number of hill tribes who are all wearing different traditional cloths, which was awesome to see. You can go on some hikes and enjoy the scenery and delicious food!
Hostel Recommendation
I highly recommend the "My Tra Homestay" there, which is owned by a nice Australian guy. He has a little daughter with a Vietnamese woman and she is just so lovely. Sometimes she woke us up shouting with her cute voice "Good morning everyone" or just came to sneek under your blanket.